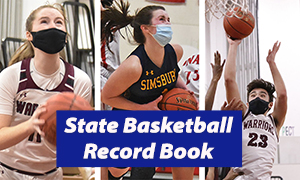 A team of sports journalists have embarked on a mission to develop a Connecticut high school record book for boys basketball and girls basketball.
The book, which will be shared online, will include records and achievements for boys and girls for public and parochial schools in Connecticut. We are doing this to provide athletes and schools with historical perspective on their achievements today and to help ensure the achievements of the past are not forgotten.
We will have a section on statewide records:
Most points (single game, single season, career)
Most rebounds (single game, single season, career)
Most assists (single game, single season, career)
Coaching wins (career) that would include overall career record with wins, losses and schools where one coached and years
Polls: Final top 10 polls of each respective season
We will also have a slice of a page on each individual school for boys and girls. Some of the individual school information we hope to share:
Most points in a single game
All players with 1,000 or more points
Undefeated seasons
Most wins in a single season
If you have any questions, please contact one of the members of our record book committee.
Do you have a submission? Please email it to one of our committee members with some confirmation such as a newspaper clip or photo of the achievement.
Gerry deSimas, Collinsville Press.com
[email protected]
Joe Palladino, retired longtime columnist, Republican-American in Waterbury
[email protected]
Joseph Morelli, Hearst Media CT and current state sportswriter of the year
[email protected]
Peter Vander Veer, veteran Shoreline sportswriter
[email protected]